I have combined the 2 diaries from Tim at uscfootballfandotcom and Class of 2007 of all the goings on at yesterdays Trojan Huddle. There are some great pics by Tim and a great Write-up by Class of 2007. Great work guys! - Paragon SC
Write-up By Class of 2007
The Wide Receivers We're Stellar: Turner, Davis Hazelton, Patterson, and Ausberry all made great plays and demonstrated some excellent abilities. It's clear from the early session of the scrimmage that Patrick and Fred are the go to guys in terms of passing (as they should be). Hazelton and Patterson caught some tough passes and ran great routs. Also, Ausberry showed some excellent body control with his grabs - putting a lot of effort into getting into position to catch the ball and blocking out defenders from grabbing his passes.  
The Quarterbacks Weren't: The imaginary statline for the game shows a lot of interceptions. This was mostly due to poor decision making on the part of the quarterbacks. Booty, Sanchez, McDonald and Green didn't give much credence to man coverage (even in tight situations) and some overachieving linebackers and defensive backs took advantage. However, as noted above, the wideouts did at times manages to make their QB's look good by getting open and making plays.
The Tailbacks Were Decent: There were a couple of big plays out of the backfield (by Dennis, most notably) but the running game had to deal with some sporadic blocking. The play calling wasn't too complicated (lots of up the gut, a few draws, little if any counters or tosses) -- so there wasn't much to revel over. At times impressive, but not always amazing.
Things Started Off Sloppy, and Kind of Continued That Way: We're talking about muffed kickoffs, fumbled snaps, blocked kicks, etc. As Wolfie has mentioned in his blog, snaps continued to be hard-to-handle for most of QB's on the field. These hardships continued even in the shotgun. Which brings me to...
The Offenses Ran Shotgun: But only a few times. As Tim mentioned, it didn't seem to be too effective  at solving any issues. Defensive pressure  really created problems in the backfield, and it wasn't stymied by the long-snap.  
What I Was Really Impressed By: Two things really stuck out to me during the huddle. First, the entire 1st string defense and some players on the 2nd string defense displayed a lot of talent. Carroll was noticeably excited by the ability of the linebackers, defensive linemen and cornerbacks to make big plays. Guys were jumping high to pick off tosses, tipping passes at the line, and laying out big hits (whoooaaaa Taylor Mays!) Second, Stanly Havili was a BEAST! The fullback made about half-a-dozen great plays on the field. Good blocking, nice agility and (most notably) very impressive catching ability. Havili also bailed out his quarterback on multiple occasions with some very nice catches in the secondary and with tight screens.
Photos by Tim at uscfootballfandotcom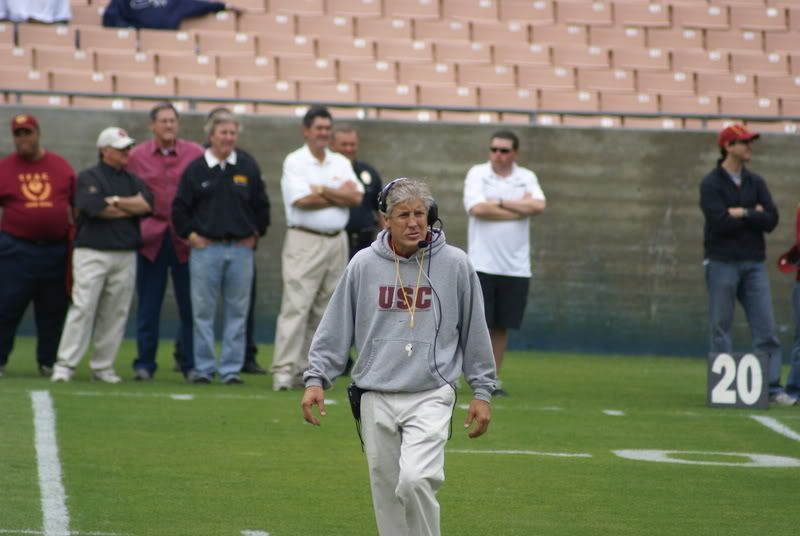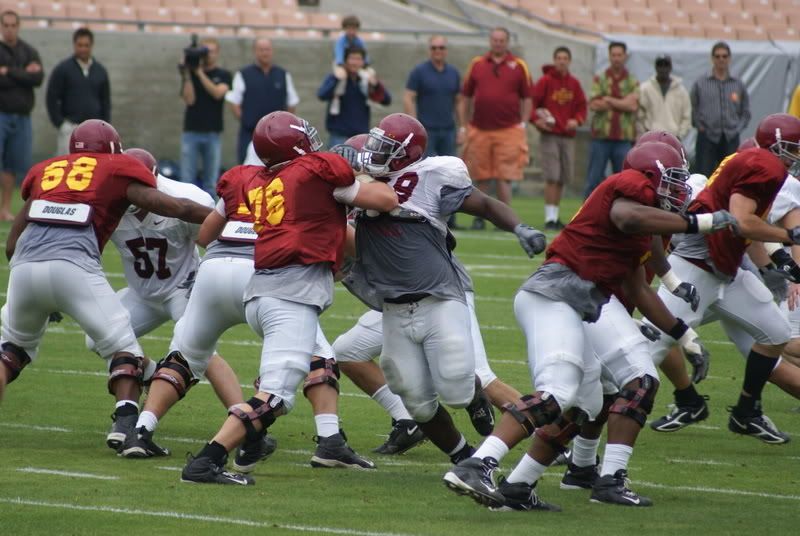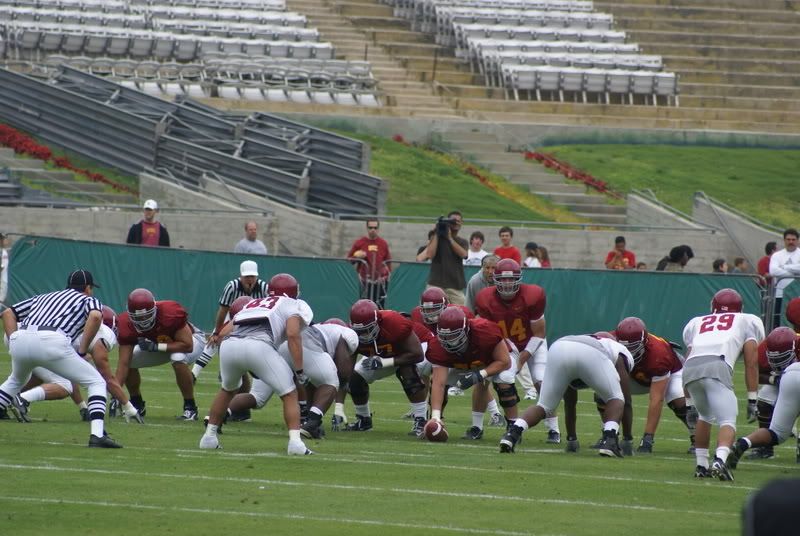 To see the rest of Tim's Photo Gallery Check out Tim's Diary the right.
Great work guys Thanks for the effort!