Trojan hoops have officially arrived!
Since I'm on the road in Philly USCLink provides us with his first hand account of last night's win against Arizona. This was a good win for us but we still have some work to do. Great write up Link! - Paragon SC
Never gonna stop me! Never gonna stop! Never gonna stop me! Never gonna stop!
Scream if you want it....'cause i want it all....scream if you want it....'cause i want it all.......
Rob Zombie - Never gonna stop
Let preface this with my new idea:  I am going to begin each game summary I post with a song quote.  It seems fun to me, and its a new idea.  So, if/when responding to this thread, feel free to include a relevant song quote.  Or feel free not to.
Wow...what an awesome game last night.  After an opening 14-6 run in Arizona's favor, I had a bad feeling that we were going to play poorly in a comedown game after our last second loss to the bRuins.
Boy was I wrong.  Tim had our boys well-prepared and We responded with a nice run, punctuated by Lodrick Stewart's 3 3-pts after missing his first two shots.  The 1st 5 minutes were ugly.  The second 5 set the tone:  "We are 'SC.  You are not going to embarass us in our own house."

You look beautiful Tim!  The team looks even better!
Special commendation goes out to the home crowd.  Last year's home games were barely an advantage.  This year, the Galen center is definitely living up to its billing.  The student body is getting loud, the people are getting into it, and the team is giving everyone a reason to get excited.  Although I was nervous at first (the arena looked half full at tip-off) the place was packed almost all the way by the 5th minute of play.
The Galen Center reminds me of NBA Jam (the SNES/arcade game from the early 90's).  In that, if a player made 3 shots without his teammate, or the other team scoring, he "caught fire" and had a greater chance of scoring (and the ball was flaming when he shot...heh, good times).  This effect lasts until the opposition scores.  The Galen center has the same effect.  When we make a big 3, then get a defensive stop, then make another basket, the place gets explosively loud, and everyone stands.  The longer we hold them and keep scoring, the more rowdy it gets til the noise in the building is completely deafening.  Then when the opposition scores or calls a time out, it goes back to normal (which is still damn intimidating).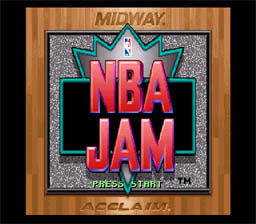 Ahhhh...Brings back memories
After a first half which went achingly poorly on the offensive side of the ball, we somehow had the lead because of what I have no qualms about calling one of the best defenses in the Pac-10.  Taj was looking bad, Loderick was cold, Hackett couldn't get the offense into a rhythm, and Nick Young was missing with his patented fadeaway jumper.
With all of that going on, we still ground out the clock defensively, kept the game close, and closed out the half with Nick Young's buzzer beating putback to put the Trojans up by 4.  After looking so ugly in the first half, I had trouble believing we were winning, and especially by that margin.
The second half of play went much better offensively, and we more than compenstated for the slight dropoff in Defense (we allowed only 29 points in the first half, and 44 in the second).
To be honest, the second half really went by as a blur until the last few minutes, with only a few plays sticking out.  We just played solid defense, occasionally had hot streaks, and occasionally let the Cats cut our lead, but from early in the second half on, we never trailed.

It feels odd using this for b-ball
The plays that really resonated:
1)  Nick Young's Alley-oop slam
With somewhere between 5-7 minutes left in the game, Floyd called timeout when a flurry on offense led to a Trojan basketball with about 28 seconds left on the shot clock.  Young inbounds the ball to Keith Wilkinson at the top of the arc, goes past a pick set by Lodrick at the baseline, and waits.  While there, Loderick sets a pick for Gabe Pruitt, who is cutting across from the opposite box.  Gabe then sets a pick for Nick Young, giving him an open path to the basket.  Wilkinson is holding the ball the entire 4 or 5 seconds this happens.  He then lofts a beautiful pass to a now 2 feet above the rim, wide-open Nick Young, who slams the ball down for a 7 point lead, and an insurmountable momentum shift.
2)  Keith Wilkinson's clutch 3 as the shot clock expired
Wilkinson, a forward who comes in off the bench, is a very underrated member of the team, and although he's not known for putting points up on the board, he plays solid D, and hustles his ass off on every play.  On this one, with 'SC playing a protect the lead offense, Gabe and Nick had become isolated from each other with neither getting an open shot, while Keith was wide open at the baseline.  Shot - buzzer - swish - 7 point lead with 3 minutes to go.
3)  Gabe's steal and layup
When Arizona was trying to rally, they cut our lead to 3, and were working well on offense.  Gabe, reading the pass like a book sprinted up from the baseline, batting the ball in front of him at a full run for an easy, and arguably game-saving layup.
The final 30 seconds of the game were some of the most frustrating I've ever endured.  'Zona kept fouling, and we kept missing free throws.  We were 10-19 from the line, and this is our second consecutive game under 60%.  Clearly this is a problem that needs to be addressed.  However, our defense held, and we put enough in to pull out a very solid win over yet another ranked team.
The student section rushed the court to celebrate, which was pretty awesome to watch.  And we deserved it.  We outplayed a damn good team at home, and by god, we were going to celebrate.
As for the season as a whole, the long and short of it is that we are playing some damn competitive ball, and the idea that its just against our rivals is, in my personal opinion, running out of evidence.  Paragon said this a bit ago, and he's definitely right.
Rivalry games tend get teams to rise to the occasion. Remember Dec. 2nd? SC pinned their ears back for most of this game but fell down the stretch, there is some improvement and this team is more athletic than before but until we consistently win games of this magnitude we need to take it easy with all the talk of closing the gap and just enjoy some of our fledgling success. I realize how easy it is to fall prey to this type of buzz but we need to balance it with some reality.
However, reality actually looks a lot better than you'd expect.  So far, we are 3-1 against ranked teams in the Pac-10, and 4-2 against all ranked teams.  That's pretty consistent performance, and so long as we keep it up, I see no reason why we shouldn't be excited.  Granted, its not the seasonal dominance the bRuins had under Wooden, but in terms of making a big footprint right here, and right now, we're doing it, and we're doing it where everyone can see it.

That's what I'm talkin' bout Nick!!!
You know we're dangerous when even our crosstown rivals grudgingly admit it.
Fight on Men of Troy!!!  Beat the Sundevils!!!